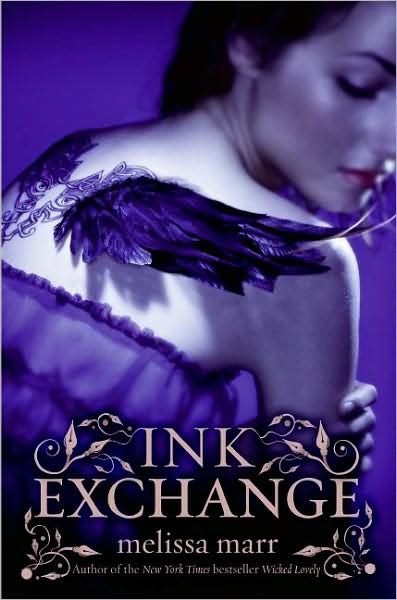 Unbeknownst to mortals, a power struggle is unfolding in a world of shadows and danger. After centuries of stability, the balance among the Faery Courts has altered, and Irial, ruler of the Dark Court, is battling to hold his rebellious and newly vulnerable fey together. If he fails, bloodshed and brutality will follow.
Seventeen-year-old Leslie knows nothing of faeries or their intrigues. When she is attracted to an eerily beautiful tattoo of eyes and wings, all she knows is that she has to have it, convinced it is a tangible symbol of changes she desperately craves for her own life.
The tattoo does bring changes—not the kind Leslie has dreamed of, but sinister, compelling changes that are more than symbolic. Those changes will bind Leslie and Irial together, drawing Leslie deeper and deeper into the faery world, unable to resist its allures, and helpless to withstand its perils. . . .
Compared to it's predecessor, Wicked Lovely, Ink Exchange was a bit boring which was very disappointing. I don't know exactly what made the story less exciting to me. I guess that compared to there wasn't much going on. However, I did like that the story focused on someone different this time. There isn't much else I want to say about this book. The plot is great but not enticing. i wish I could have enjoyed it more.