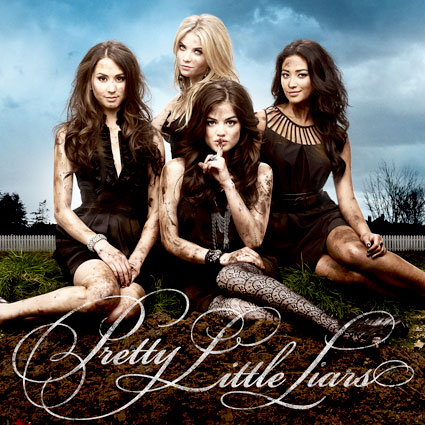 So, after almost 2 years of anticipation, the Pretty Little Liars series has finally become a reality for fans of the book. From the actors to the script we agonized over how the producers would interpret Sara Shepard's masterpiece and who would portray our girls: Ali, Emily, Spencer Hanna, and Aria.
I know we're on episode 6 going onto 7 now and bloggers all over the web has more than shared their opinions on...well...
everything
, but since this is a show I've been excited to see I decided to reserve judgment until the fifth or sixth episode. So here are my thoughts on the show.
First of all, let me say I'm so over the way they look; it's not important even though at first I was disappointed that Emily wasn't a redhead [Love redheads].
Spencer:
Troian Bellisario portrays her really well. I know a lot of people say things like "she looks so old" but personally I like her. I think she brings Spencer to life, and with the combination of Troian acting and the writer's portrayal of Spencer I find her to have more of a softer personality than she did in the books. As for her family life; I find it to be less aggressive and brutal than it was in the books. Her parents were horrible [I my opinion] in the book series and I was worried about going through that again on the small screen.
Aria:
I've been seeing a lot of Lucy Hale over the past year or two and have found myself, on occasion enjoying watching her performances. Lucy as Aria....well, I never liked her hooking up with Ezra I always seeing ending horribly and like his [Ezra's] friend said, "She''l l be getting her diploma while you'll be getting a pink slip and and orange jumpsuit". I'm praying that the writers change the outcome for them [I really,
really
do hope so]. As for Aria's Fam; I'm loving that Holly Marie Combs is portraying her mom. I loved as Piper in
Charmed
and was so happy when I read that she was cast as Ella. I'm also loving that the writer are giving their marriage a second chance.
Emily:
Shay Mitchell [personality wise] is doing Emily justice, Em and Aria were my favorite people in the book series. So to see Em brought to life [almost] the way I imagined her adds a double plus in the Liking-The-Show column. Her conflicts of interests Toby and Maya are also fun to watch. I know this is Em's "moment" but I have to talk about Bianca Lawson as Maya St. Germain. She has been a fave of mine since I first saw her in
Save the Last Dance
as Julia Stiles' competition for Sean Patrick Thomas' heart, then again in season 2 of
Buffy the Vampire Slayer
as Buffy's replacement, and even more recently as Emily Bennett Bonnie's witchy ancestor. This girl no woman has been around since...well...forever and still looks good enough to play a 15/16 year old girl. It was a total shock for my sister, cuz, and mom when I told them. And I just had to point it out to you especially since these days it's getting easier to spot the 20 something playing the teen. Looks aside she plays a near perfect Maya in my opinion.
Hanna:
Ashley Benson forever the mean girl; well, most of the time. Ashley's another I've seen around, a lot. And personally I'm loving as Hanna. I never really felt for Hanna except when it came to her family life and the accident (book fans you know what I mean). But I find she's moving up there next to Em and Aria. She's also another whose personality has been softened a lot on screen.
I'm really curious to see where the writers are taking this story. I'm especially curious to see where they're going with Jenna Cavanaugh. She's being awfully aggressive on screen; she never seemed that way to me in the books and like my sister pointed out she's kind of bullying the girls which is sort of funny and creepy at the same time.
As we get into the last four episodes of the original ten episodes of the show I'm really excited for the revelation of A and other things to come full circle.
That's it for now I'll be back with more after episode 10. For those of you who's been missing the shows both on
ABC Family
and
Hulu
, you can catch up on
YouTube
and
Tvduck
. And I suggest you do because I'm bringing spoilers to the table mext time.