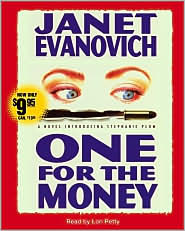 Stephanie Plum has hit a major road block in her life. She just lost her job as a lingerie buyer and needs some money to pay her rent. Luckily, her cousin Vincent Plum is looking for a secretary for his Bail Bonds office. But Stephanie has another job in mind, Bounds Enforcement. Bounds Enforcement or Bounty Hunter, pays just as much (and sometimes more than) as a regular office worker but Stephanie isn't tired of that conventional route.
Her first case is to find and capture Joseph Morelli. Joe and Stephanie grew up in the same neighborhood, on the same street for years. Needless to say they have a history of touch and go incidents. The first, when Joe invited her over to play Choo-Choo in his garage when Stephanie was six and Joe, eight. Second when he taught her the more adult version of the Choo-Choo game ten years later; and the last when Stephanie deliberately ran over him with her dad's Buick two years after that.

Now a days Joe is a vice cop for the Trenton Police Force, and he's wanted for murder. Stephanie has to find him before his bound agreement expires and Vinnie loses $100,000 and Stephanie, $10,000. However, while looking for Morelli she stumbles across and some evidence that may prove his innocence. And with this evidence she gets mysterious threatening phone calls and a crazed serial rapist with a penchant for torture stalking her With all this going on Stephanie realizes that being a bounty hunter isn't as easy as she thought it would be.
I haven't read a really good

mystery in, well, a month or so. My version probably sounds less than appealing. But, this book was equal parts comedy and mystery. It was very well written and the story flowed smoothly. The only thing is that there were some slightly detailed sex scenes that were a bit embarrassing because I was listening to this book with my mom It just felt weird. I probably didn't mention this before, but this is the audio book read by C.J. Critt. It was fun listening to her read. I especially love her voice portrayals. I'll definitely check out the rest of this series. I'd have to read them by audio book though (for my mom's benefit).