Yes I know I said that I was reading and reviewing Gender Bender by Blake Nelson next -- and I will....just....not right now. It's because I came across the latest Clique novel and couldn't resist reading it.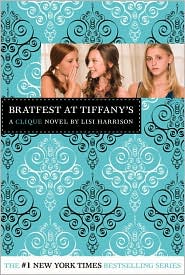 Bratfest at Tiffany's
picks up at the beginning of the school year at OCD-- oops I mean BOCD. The "B" is for Briarwood-- as in Briarwood School For Boys, The school that is forced (thanks to the unfortunate collapse of the entire school the past school year) to make nice with the girls of OCD. For Massie and the PC (Pretty Committee) this means a whole new start on staying on top of the social food chain that is (for now) BOCD. Massie decides that the girls should abstain from interacting with the boys of Briarwood and any boy for that matter and dubs their group the New Pretty Committee (NPC). But the girls are finding it hard to follow orders.

Massie finds the new and improved Dempsey Solomon very hard to resist. Claire is still upset about
her breakup with Cam and is devastated when he hooks up with Olivia Ryan. But when Alicia devises a plan with Josh Hotz to ditch the NPC she finds herself on the outs with the group yet again, and the NPC finds themselves in a trailer with the lowest of LBRs. Now Massie has to do some extreme scheming to get revenge both on the boys of Briarwood and Alicia.
I really liked Bratfest at Tiffany's it was the best Clique novel I've read since Revenge of the Wannabes. I loved seeing Claire and Alicia deal with the upsets in their lives -- Claire with getting over Cam and dealing with the consequences of her action in Dial L for Loser and for Alicia (the age old lesson) learning not to let boys get between you and your friends. Lisi Harrison did a good job writing this book. Can't wait to read The Cliques Summer Collection #1: Massie coming out this April.

Speaking of upcoming Clique projects. There will definitely be a clique movie on the way. Lisi Harrison has mentioned in her Blah-g that there will be direct to DVD films. The cast has been chosen and filming has started. Tyra Banks heads the production of the film. Not only that ET (Entertainment Tonight) will be doing a small expose on the film. That's it for now but before I go here is the cast so far for the Clique Movie.
P.S. Lisi Harrison updates her BLAH-G EVERY Wednesday so check that out if you want frequent updates on what going on in the Clique World.