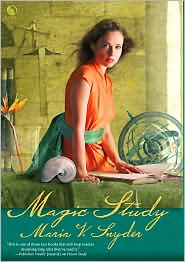 After helping to save the Commander and the kingdom of Ixia from a hostile take over and revealing her forbidden magical abilities to everyone, Yelena is returning home, escorted by her new friend and future teacher, Irys, Fourth Magician of Sitia. But what should be a happy reunion however, is shadowed by feelings of unease and confusion.
It turns out not all of Yelena's family and fellow magicians are happy to see her and are determined to prove she is a northern spy.
Also, Yelena Zaltana, which is her actual name, has no memory of her past family life.

As Yelena is adjusting to her new life and preparing to begin her magical training, danger makes an appearance once more. There is an Ixian prince who has sought refuge in Sitia and has plans to build an army to once again claim his rightful throne. All he wants is Yelena to provide information on the Commander and his army. As if That's not enough, a magical stalker is on the loose, brutally abusing and murdering young girls with magical gifts. The killer, obsessed with power, will do whatever it takes to become the strongest magician in all of Sitia. And Yelena is his next target. Now with all the danger Yelena has to face, she can't help but wonder if she were better off as the Commander's food taster.


Magic Study was just as great Poison Study. It was awesome that Yelena found her family. But I have to say that I wasn't surprised that some of her family members wasn't as accepting as the others. I also wasn't surprised by the reason behind the feelings of loathing. Watching Lifetme Movies makes you very aware of underlying conflicts in a story. The book was just as dark (probably even more so) as the first. I liked how Yelena has grown as a person in this book not only emotionally and mentally but also magically. It was great finding out her power. So far the Study series hasn't disappointed me. I'm really excited to read the third and possibly last book to this series,

Fire Study

, which sounds very interesting just by the title alone.