.....With a ton of book to movie line ups, three to be exact. Yes three is a lot. First we have:
The Boy in the Striped Pyjamas
Author
:
John Boyne
Starring
:
David Thewlis
,
Vera Farmiga
,
Asa Butterfield
, and
Jack Scanlon
Released
: 7, November 2008 (limited release), 14, November (possible national release)
Book/Movie Plot:
When Bruno returns home from school one day, he discovers that his belongings are being packed in crates. His father has received a promotion and the family must move from their home to a new house far far away, where there is no one to play with and nothing to do. A tall fence running alongside stretches as far as the eye can see and cuts him off from the strange people he can see in the distance. But, Bruno longs to be an explorer and decides that there must be more to this desolate new place than what meets the eye. While exploring his new environment, he meets another boy whose life and circumstances are very different to his own, and their meeting results in a friendship that has devastating consequences.
Trailer:
I do not know how many of you have read this book. I know I haven't. But if you're interested in this story you would have six possibly thirteen days to locate and read this story then see the movie if it's showing at your local theater.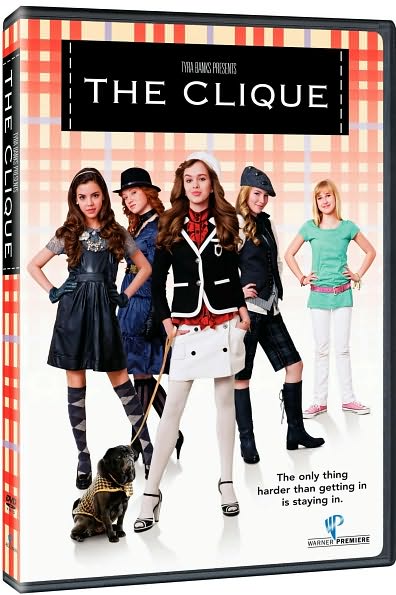 The Clique
Author:
Lisi Harrison
Starring:
Elizabeth McLaughlin
,
Ellen Marlow
,
Samantha Boscarino
,
Sophie Anna Everhard
, and
Bridgit Mendler
Release Date:
18, November 2008 Direct to DVD
Book/Movie Plot:
When new girl Claire Lyons moves to Westchester from Orlando, she immediately finds out that fitting in is going be a lot harder than she thought it would be. exactly Claire isn't rich girl with designer duds and expensive shoes or handbags...but unfortunately, every other girl at the prestegious Octavian County Day School is. What's worse is that Massie Block, the most popular girl at OCD is out to make Claire's life miserable...and it doesn't help that Claire is living in her guest house. Massie and her friends Alicia Rivera, Kristen Gregory, and Dylan Marvil, will do whatever it takes to destroy Claire. What they don't realize, however, is that Claire won't take all their tormenting lying down, and when she finally has enough, Massie just might lose her throne at OCD.
Trailer:
This has been creating quite a buzz among the fans of this series. Every fan of the series is excited (including me). And cannot wait to watch the movie.
Twilight
Author:
Stephenie Meyer
Starring:
Kristen Stewart
,
Robert Pattinson
,
Taylor Lautner
,
Billy Burke
,
Peter Facinelli
,
Elizabeth Reaser
,
Nikki Reed
,
Ashley Greene
,
Jackson Rathbone
, and
Kellan Lutz
Release Date:
21, November 2008
Book/Movie Plot:
Isabella Swan's move to Forks, a small, perpetually rainy town in Washington, could have been the most boring move she ever made. But once she meets the mysterious and alluring Edward Cullen, Isabella's life takes a thrilling and terrifying turn. Up until now, Edward has managed to keep his vampire identity a secret in the small community he lives in, but now nobody is safe, especially Isabella, the person Edward holds most dear. The lovers find themselves balance precariously on the point of a knife -- between desire and danger.
Trailer:
Hands down the most anticipated movie of the year. Because of this movie more people are scrambling to read the series before the movie is released. It's like a fast spreading fever that's hitting the nation and everyone from the author, Stephenie Meyer, to the fan who's being drawn into the series as I type this post, Benefits from this phenomenon that is Twilight.