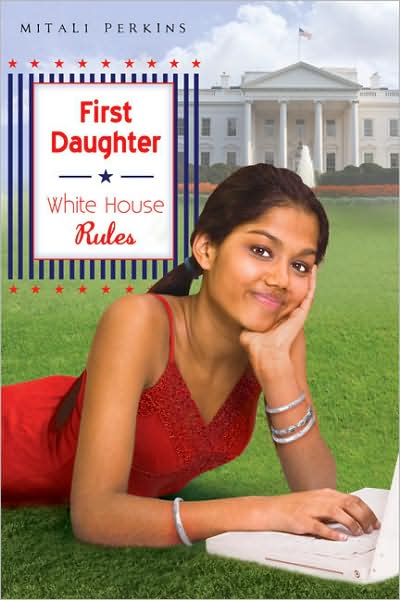 In First Daughter: Extreme American Makeover, Sameera showed the United States it was ready for a Pakistani-born First Daughter. With her brains and bravado, she helped her dad win the presidential election.

Now she's living in the White House. Fabulous! Right? Actually, it's no fairy tale. The Secret Service and the paparazzi follow Sameera everywhere. She misses her friends--and even her school--back home. So Sameera decides to escape. Will she be able to pull it off, or will her plan backfire on the entire First Family? This smart and funny novel continues the adventures of a Pakistani-American teen in the spotlight.
I read the first book to this series (
First Daughter: An Extreme American Makeover
) about this time last year and was really impressed with the story. I love Sameera. She is sort of like me (in a way); she's always discovering and rediscovering herself and her purpose in life. In this book it's no exception. Even though the focus is on Samee and her potential boyfriend. Like the fact that her cousin who is spending some time at the White House with Sameera and her parents and is deiscovering her love of movie making. She doesn't wnat her aunt and uncle to lather her with gifts so she decides to find a job doing something to earn spending money. What she comes up with is awesome. There's also Sameera's wish to attend school just to be around kids her age again. These issues help make up a really good summer read. I hope there's more to come.