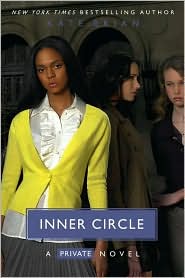 It's been a year since Reed Brenan has been at Easton Academy. Months since the insident with Thomas Pearson. Now she's back as a junior, trying to put the horrors of the previous school year behind her. But Easton has changed starting with the new principal who is determined to put an end the Billings Girls' "reign of terror", first by appointing six girls, Constance, Missy, Lorna, Kiki, Astrid, and the new girl Sabine, to the Billings House.
But new Billings president, Cheyenne Martin, isn't happy about this development. Until recently, anyone interested in living in Billings had to be voted in by the majority of the current Billings residents. So Cheyenne decides to put the girls through a few "tasks" that, if they pass, will secure them a place in Billings. Reed isn't too happy with this plan. She just wants a normal school year with minimal to no drama. So she takes a stand against Cheyenne.
I was skeptical about continuing to read this series after the events of the fourth book, Confessions. I was worried that the second chapter of the series (books 5 to 8) wouldn't be as great as the first part. But as usual, I was wrong. This book was intense from the first sentence. Reed was the same. I didn't find that she changed that much. The new characters blend in seemlessly. Reed's budding relationship with a previously known character makes me worry about her. I have a feeling that It's gonna blow up in her face and It's not gonna be pretty. I wish I'd hear a lot more from the previous Billings girls I miss them, especially Noelle. In honor of her I'll be flying this I heartNoelle banner everytime I review a book from the Private series. Getting back on topic; I 'll end this post with a few words of advice: Read the Private series. It's a clique-ish type book but it has some intense suspense which leaves you hungry for more.