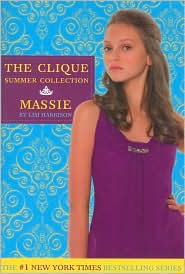 So, the first Clique Summer Series book is out. And I was so happy to have read it. But I almost missed it because at a mere 123 pages anyone could have walked by it on the shelves of their local book stores and not notice it.
So in the last book Bratfest at Tiffany's the girls in the Pretty Committee were extremely secretive about what happened to them over the summer between 7th and 8th grade. If you're wondering what happened to each of them I'm no the one to tell you have to go read it yourselves. Not to be so mean and witchy (w
ith a "B") I'll give you an overview.
Massie's summer starts off as awe inspiring and fabulous as usual. She's at the best Summer Riding camp in the U.S., Galwaugh Farms Sleep away Riding Camp, when after a small misunderstanding she was given the boot. She then joins her parents in the Hamptons hoping to get some sort of sympathy but is shocked and devastated when they not only ground her and take away her credit cards, they order her to get a job to pay them back for the money they spent on the camp. But Massie doesn't what a job she wants a jobby (JOB + HOBBY = JOBBY). She sets out to get a jobby and finds BE Cosmetics, a fairly new cosmetics company that hires teen girls as sales people. So Massie is on a role to be the best at her jobby, impress Anastasia Brees the company owner and Massie's new role model and to pay back her parents fast enough so she can get her hands on the latest summer fashions.
Even though the book was tiny (in comparison to the other clique books) it didn't skim on the spirit of the Clique Series. Massie is just as devilish and conniving as ever-- probably even more so, which was a bit unnerving. But in the spirit of the Clique series it's all good. The book was worth the wait and I can't wait to see what Lisi has in store for the other members of the Pretty Committee.