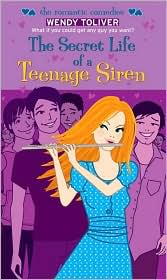 For years Roxy has always considered herself to be somewhat of an ugly duckling. But on her sixteenth birthday she'd be getting the best present yet...ultimate beauty. At first when her grandmother told her she was a siren Roxy thought the her Grandma was a touch crazy in the head but how else do you explain her sudden change in her looks and the way she plays the flute. But there is one little glitch Roxy cannot tell any one the reason behind her sudden change in looks or she'll lose both her looks and her talent to play the flute.
But this doesn't phase her. Sure she can get her heart's desire with the flick of her hair or a few notes on her flute, But the only thing she wants besides a glamorous summer job that pays well and a change in wardrobe is the attention of Zack Parker, the most popular boy in school. But in her attempt to gain the approval of one boy she loses the approval of her best friend Natalie and the unwanted attention of Eva "The Diva" Nelson the on-again-of-again girlfriend (currently off) of Zack. But being Zack's girlfriend isn't all what it's cracked up to be. So now she has to find a way to make everything right again before the new school year starts and to do that she's gonna need the help of the people she's hurt the most.
I'm a sucker for all things supernatural so I couldn't help but go crazy over this book. So I'm really, really happy to say that I loved reading this book it was everything a romantic comedy should be. Roxy was a fun character, the plot was predictable like all the other Simon Romantic Comedies books but that didn't take anything away from the book. Wendy Toliver did a good job writing this story and I can't wait to read whatever else she has in store for us.