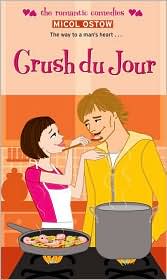 Busy busy busy. That's how Laine Harper would describe her life at this moment. But she has no intension of slowing down unless it's to check out the hottie that passes her by. Laine is also a notorious flirt and has never been in a relationship that has lasted more than three weeks. Cute boys aside, Laine has to keep busy if she wants to be able to be accept into the college of her choice. so When the local community center puts an ad out for someone with cooking experience to teach a beginners cooking class for tweens she jumps at the opportunity. After all she loves to cook and with her mom being a well known and respected food critic the art of food practically runs through her veins.
She gets the job of course but there is one problem. her teaching partner, Seth, is so cute it's distracting. She would ask him out but having made a strict pact to herself and best friend that under no circumstance would she be distracted by any boys this summer. But this is easier said than done. But when Seth asks her to work part time at his dad's new restaurant Hype to earn some extra cash she couldn't refuse. But she finds that working as a waitress isn't all what it's cracked up to be. But when she finds out that her mom gave the restaurant a bad review she finds both her job and her non-relationship with Seth to be in jeopardy.
Crush Du Jour was a fairly good read but I found myself not connecting with what was going on in the story. It seems as if the relationship with Seth was very one dimensional and at times shallow. And it also seemed odd that Laine being the extremely driven person that she is was too easily side track by a little bit of eye candy which I found to be very uncharacteristic for a person who is so Type-A. I was disappointing because I Read and loved Micol Ostow's previous Romantic Comedies book 30 Guys in 30 Days and I really liked it. Oh well I guess this is another Strike for the series.