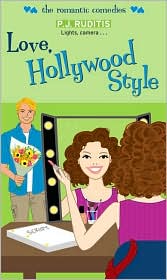 Tracy Vance's parents are the most romantic couple ever to walk the earth. There even was a movie optioned to be made about their love life. This has never bothered Tracy but on the eve of her depart for college she decides to have the most romantic summer ever. And what better place to start her romantic summer than at her job at Sovereign Studios one of the many Movie/TV studios in Hollywood, California. But to do this she's gonna have to find the perfect guy.
Enter Connor, one of the newest employees of Sovereign Studios and the perfect guy for Tracy's summer of ultimate romance. He's smart, sweet and uber adventurous, but he also has no clue that Tracy's into him. That's where Christy Caldwell comes in. Christy is the latest up and coming superstars of the moment and thanks to her Tracy's got the perfect formula to not only get Connor's attention but to also have her romantic summer:
Girls meets boy.

Girl loses boy.

Girl tries to get him back.

Succeeds.

They live happily ever after...at least until the sequel.
Now with a little help from her friend Dex (aka the most romantic guy ever) she's on her way to having the greatest time of her life...she hopes.
Love, Hollywood Style was a bit predictable not because the formula of the book was laid out but because I kind of figured what would go down. But it was an OK book nonetheless. P.J. Ruditis did an OK job with the story. Needles to say this book wasn't one of my absolute faves but I kind of enjoyed it despite my lack of enthusiasm.