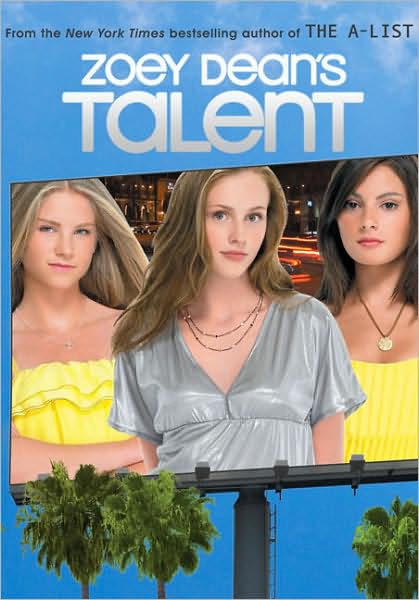 It's all about talent in LA: who has it, who doesn't, who wants it, and who can find it first!
When thirteen-year-old Mac Armstrong witnesses newcomer Emily Mungler's stellar lying-to-gain-entry performance during a movie premiere party at the Roosevelt in Hollywood, it dawns on her that her own talent is to discover it in others! So Mac and her BFFs set out to prove it by turning fresh-from- Cedartown-Iowa Emily into a box office bombshell. They'll make deals, throw parties, crush on boys, all on the way to discovering that no matter how famous or important you are, friendship always comes first. Well, almost always.
So, you've been hearing about this new series by Zoey Dean called Talent about tween girls running around in Tinsel Town and you think, The Clique, that other book Ashleys [is it?] and other books about twen girls who act like the PG-13 version of Gossip Girl and Co. Then you think; "What's the diff?". Well there isn't. But if you want to look at it in another way, this series is about:
A girl who feels that in a town where just about everyone is talented she isn't and sets out to find her's (talent).

A girl who realizes that she does have talent and gets a once in a lifetime chance to show the world.

A girl who knows she has talent but no one seems ready to let her showcase what she can do.

A girl who just wants the boy next door to notice her.
So you see, this series is standing out from the rest. That is why I really enjoyed this story and cannot wait to read the other books in this series.