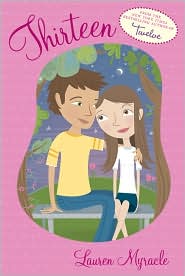 Winnie Perry is turning thirteen that means:

1. She's a teenager
2.
She can finally see PG-13 movies WITHOUT her parents
3.
She's one step away from High School
But with all the joys with being thirteen Winnie learns that it comes with even more problem than when she was twelve. First there's her boyfriend Lars seems to drifting away from her. Then there's Cinnamon, Winnie's not-so-new best friend and Amanda her ex-best friend, who are both growing up too fast. The only person who's staying the same is Dinah but Winnie's not too sure if that's a good thing.
But she isn't the only one dealing with changes. There's her sister who's getting ready to leave for college. Her younger brother who is trying to impress a girl at his elementary school. And her mom who may or may not be having a nervous break down. All this has made Winnie come to the conclusion that the year between thirteen and fourteen will be the most difficult year to date.
Thirteen was a fun book to read. It was kind of reminiscent of the Alice McKinley books by Phyllis Reynolds Naylor. It dealt with Winnie's problems with a side of humor which made it a real pleasure to read. Readers can take a page or two...maybe even three or more (figuratively of course) from her book and apply it to any problems mirroring hers in your life. Before Thirteen there were Eleven and Twelve which preceded this book. After reading Thirteen I felt like I had missed out on the last two years of her life so I decided to back pedal and check out the last two books.
I got Thirteen from Book Divas who were giving away free copies of this book for Lauren Myracle's (author of this book) upcoming author visit. Lauren is visiting March 2nd to the 10th on the Book Divas message boards. She'll be answering questions about Thirteen and anything else you'd like to know so check that out. If you want to ask questions Sign Up At Book Divas.com and post your question on the Lauren Myracle Author Visit message board.