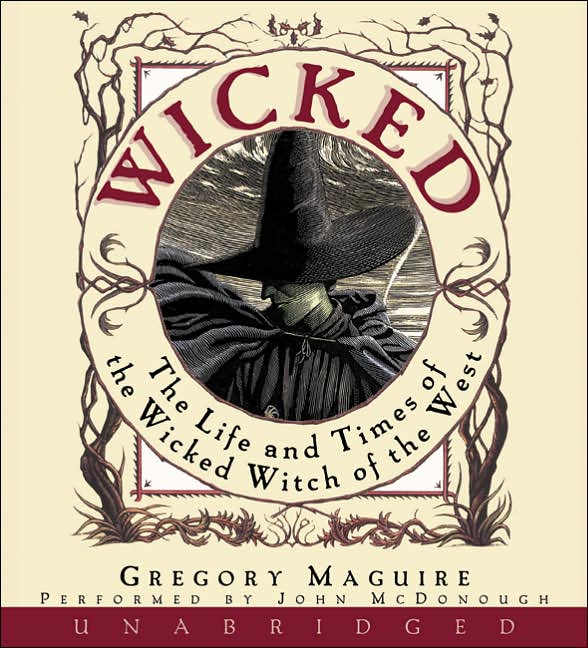 Most of us know the Wicked Witch of the West from the

Wizard of Oz

. You've either read the novel by L. Frank Baum. Or you watched the MGM classic starring Judy Garland as Dorothy. but what we do not know is

her

story the reasons why she wanted those famous ruby slippers and why she was dubbed the wickedest of all Oz.

In

Gregory Maguire's novel

Wicked

we are reintroduced to The Wicked Witch of the West who, in this novel, goes by the name of Elphaba (

Elphie or Fabala for short), a green skinned girl with teeth like those of a shark's, who is constantly misunderstood due to the color of her skin. The story follows Elphie from a few hours just before her birth until a day or so after her death. We learn of her insecurities, friendships, and romances. And most importantly, the reason behind her path to "wickedness".
I've always been interested in
Wicked
ever since I saw the TV ad for the musical. So when I heard that the musical was actually based on a
book
I set out to find and read it and some years later, I did. After listening to the audio book It took me some time to sort out my feelings for this book. There were a lot of details and information to grasp in order to stay on top of everything that happens in this story. At times it could be long winded and boring. However, at the end of the book I couldn't help but feel very satisfied with the outcome of everything. Mr. Maguire did exactly what he set out to do; which was to explain who exactly was the Wicked Witch of the West. I don't think I'll ever try to read it again but I liked it. I Can't wait to see the musical!