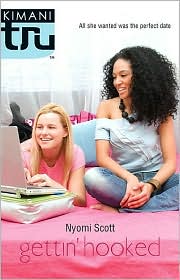 Prom is just a few weeks away and Imani Lane still hasn't had a date. It's not that she hasn't being asked, It's just that she hasn't been asked by the right guy, Maurice Simms. Maurice is the next door neighbor to Imani's cousin Kayla. She's been in love with him ever since the day he moved into the townhouse next to Kayla's and she has been bashful ever since.
But with Prom fast approaching she's growing desperate. So desperate in fact that she decides to create a teen hook up site for the kids going to Creekside and Howard High School, the schools that Imani and Kayla attend, just so she get matched up with Maurice. The site (gettinhooked.com) slowly becomes an instant hit among their friends. However, when the site becomes too popular Imani is blamed for the fights and the drama that was "caused". Not only that, she is no where near close to gettin hooked with Maurice. But all Imani's problems are put on hold when Kayla run off to hang out with a guy she met through the site over the Spring Break.
The plot was great but I didn't like the dialogue to much. It seemed as if the author was trying too hard to connect with the readers which made the book very difficult to read. One word is all I have to say to Ms. Scott....RESEARCH. Research the way teens talk. Write down or tape what they say. You got a little bit of it right you just need to let it flow. Other than that your story was really good, I'd like to read more about Imani and Her mother's relationship.